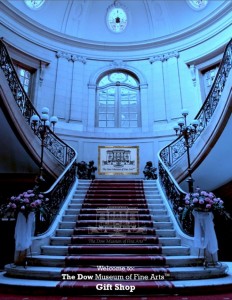 Welcome to: The Dow Museum of Fine Arts®
Just a Click, Directly Above, for your convenience, to Shop Now!
In Our Amazing, Museum Gift Shop!
Featuring Our Exquisite, Original Museum Collections and Extraordinary Merchandise!
Enjoy Your Online Shopping, from the comfort of your home, in Our Exclusive Museum Gift Shop!
"Where You will find, the Perfect Keepsake, Gift, or Treasure!"
"Presents, that Promote Presence!"
We encourage you, to take the time, to intentionally read our merchandise descriptions!
"Divine and Heavenly, Food For Your Soul!"
"Our Steadfast Commitment, and Our Life's Purpose, is to Paint, and Film, The Entire World's Landscape, a more Beautiful, Positive, and Loving Place, to 'Be'!"
"We are Expert Storytellers and Filmmakers, in literally everything, that we create, paint, design, write, storyboard, direct, shoot, edit, or film!"
"We've dedicated our entire lives, to telling incredible stories, in all areas of, Fine Arts and Entertainment!"
"Our entire Fine Arts and Entertainment Museum, will Immerse You! Captivate You! And take Your Breath Away!"
"The Dow Museum of Fine Arts® promotes divine presence, and divine love; teaching elegance, beauty, and refinement, internally and externally!"
"We Believe, You should Always leave a Museum a Better Person!"
God Bless You Always!
The Dow Museum of Fine Arts® is always known for, Modern and Classical Elegance, Beauty, Grace, Romance, Sophistication, Culture, Refinement, and Enlightenment, with Divine Presence, and Divine Love!
All Generations of The Dow family name, live by the highest level of standards, perfectionism, and excellence, in all Dow brands and Dow trademarks! The Dow Museum of Fine Arts® is honored and proud, to come from a family legacy, that will continue to be passed on, for generations to come! Generations of eternal optimists, always making the world, a more beautiful, more positive, and loving place to 'be'!
All of Our Museum Gift Shop Merchandise, is intentionally and carefully packaged from here, with Divine Presence and Perfectionism. We always wear White Gloves, handling and inspecting each and every order meticulously, before packaging or shipping your items.
Our in-house shipping department, is loving, attentive, meticulous, and conscientious; and always intentional and present; while handling any of our incredible merchandise! We package each and every order, with dedication, discipline, passion, and divine love!
We intentionally bless each customer, and we also always bless, each magical item you order, because all of our museum merchandise selections, will bring you very good feng shui!
Your packages are always blessed, with extra loving magic, and our warmest wishes!
All of our smiling customers, are always very impressed, and extremely happy, when their breathtaking and magnificent deliveries arrive!
"We will continue to send you, our love, magic, happiness, and joy, directly to your door!"
God Bless You Always!
Now you can have tons of Fun, and Go Shopping!
We are always here to assist you, while picking out the perfect elegant gifts, for your dearest loved ones!
(415) 806 – 7444
(415) 384 – 0444
giftshop@thedowmuseumoffinearts.com
concierge@thedowmuseumoffinearts.com
You may contact us by phone, via email, or by writing to:
The Dow Museum of Fine Arts®
P.O. Box 102
Tiburon, CA 94920
We Always look forward to hearing from you!
The Dow Museum of Fine Arts® © All Content Copyright 2022. All Rights Reserved.