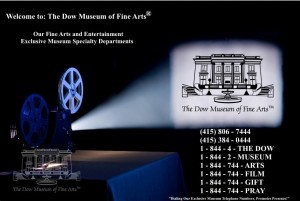 Welcome to: The Dow Museum of Fine Arts®
Our Museum Specialty Departments Include:
Our Fine Arts Department,
Galleries, Exhibitions, Curatorial Departments,
Motion Pictures and Television Department,
Designer Department, Photography Department,
Dance and Performing Arts Department,
Philosophy Department, Art History Department,
Gift Shop, Concierge Department, Prayer Chapel,
Water Fountain Wishes, Rooftop Terrace, and many more!
————————————————————————————————————————————–
Art Lovers and Fine Art Collector's may Contact Us, regarding:
Our Original Museum Fine Art Paintings and Masterpieces! for Sales / Loans / Commission Works
"Our Steadfast Commitment, and Our Life's Purpose, is to Paint, Design, and Film, The Entire World's Landscape, a more Beautiful, more Positive, and much more Loving Place, to 'Be'!"
"We are Expert Storytellers and Filmmakers, in literally everything that we create, paint, design, write, storyboard, direct, shoot, edit, or film!"
"We've dedicated our entire lives, to telling incredible stories, in all areas of, Fine Arts and Entertainment!"
"Our Fine Arts and Entertainment Museum, will Immerse You! Captivate You! And take Your Breath Away!"
"The Dow Museum of Fine Arts® promotes divine presence, and divine love; teaching elegance, beauty, and refinement, internally and externally!"
"We Believe, You should Always leave a Museum a Better Person!"
God Bless You Always!
(415) 806 – 7444
(415) 384 – 0444
"Dialing Our Exclusive Museum Telephone Numbers, Promotes Presence!"
"God Bless You Always!"
"We Always Love hearing from You!"
The Dow Museum of Fine Arts® © All Content Copyright 2022. All Rights Reserved.